Red&Near Infrared Therapy Pad 850nm Panel LED Devices Full Body Pain Relief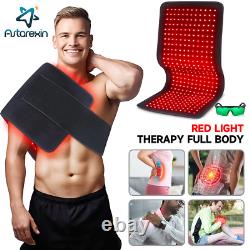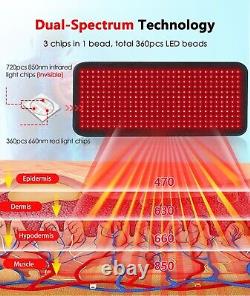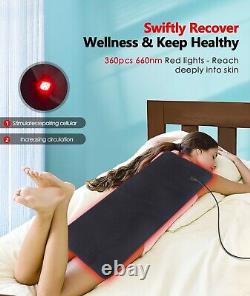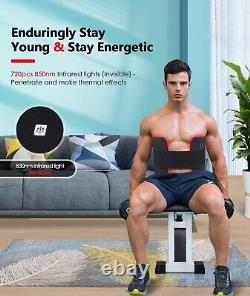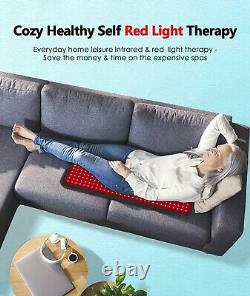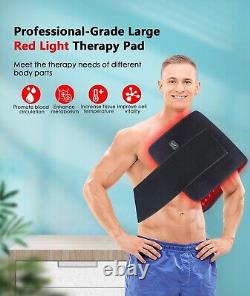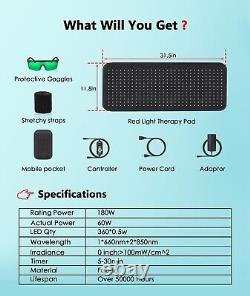 [2023 Full Body Red Light Therapy Pad]: Astarexin 31.5" x 11.8" large red light therapy pad that you can lie on or cover your whole body. Satisfies the need to treat the entire back. There are 5 adjustable brightness levels, each with a stable brightness and pulse pattern, and a 10-30 minute timer with an auto-off function. [360PCS LED lights] : The red light device is a combination of 360 LEDs and 1080 chips (1 bead and 3 chips).
660nm deep red light stimulates cell repair and deep beauty, while 850nm near infrared light penetrates deeply, causing a thermal effect that improves cellular vitality and regeneration, whether you want to quickly recover from a workout, relieve pain, stay in shape, rejuvenate skin reduce inflammation, relieve muscle fatigue, or want to improve your sleep, Astarexin Red Light Therapy Strips are the choice for you. [Home Edition Red Light Therapy] : With this red light therapy device, you can enjoy the comfort of infrared light therapy at home anytime instead of enduring painful days of appointments, scheduling, waiting, and queuing to have a limited expensive spa.
[Safe and reli able] : The upgraded red light heating pad is made of soft fabric, softer and more comfortable. We recommend using it for no more than 30 minutes at a time, 1-2 times a day.
Whether you want to repair tissues, address inflammation, relieve joint and back pain, or improve sleep, this Red Light Therapy Pad is a good choice for you. Our heating pad can provide true relaxation for your beloved friends and family on any occasion, the heating pad is a great gift idea for a friend, relative or someone you love - or for yourself! Type: Red light therapy pad.
Size: 31.5" x 11.8 ". Package size: 15.79 x 7.05 x 3.86 inches.
Package weight: 3.64 Pounds.