660nm Red & 850nm Near Infrared Light Therapy Wrap Belt for Knee Leg Pain Relief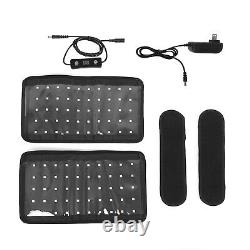 660nm&850nm Near Infrared Light Therapy for Pain Relief Knee Legs Arm Wrap Belt. Note: This item can only be used when connected to a power source. Infrared and red light treatment arthritis joint pain relief device Led 660nm and 850nm wearable knee elbow pad for home healing treatment. Large package: 100 powerful medical grade LED lights, a wider area can better cover the treatment of knees, elbows, thighs, calves and ankles.
The 660 red light acts on the surface of the skin, and the invisible infrared light (850nm wavelength) can penetrate deep into the skin and is beneficial for deep bone, joint, nerve and muscle problems. SOFT AND COMFORTABLE TO WEAR - Thick and lightweight superfine plush fiber provides maximum comfort for everyday wear. The adjustable Velcro straps help to install the hands-free lighting system around the target area and focus on treatment in the office or at home. A SAFE AND NATURAL SOLUTION: This non-toxic phototherapy device has no negative effects on people.
Combination of red light and near infrared therapy. A greater proportion of wavelengths of red light is absorbed by skin tissues, making it especially effective in promoting skin health and increasing collagen products. The wavelength of near-infrared light at 850nm is longer than that of red light.
They can provide energy to the cells of the body, making them ideal for strengthening muscle recovery and reducing joint pain and inflammation. Helps speed joint recovery and relieve pain.
It is ideal for sports injuries, arthritis, neuropathies, sprains, carpal tunnel syndrome, thigh and calf stiffness, ankle pain, muscle pain, inflammation, sciatica, tendonitis, and tissue repair. Medical lighting equipment - Specially designed to relieve pain, restore injury and muscle relaxation, with timing function, timing time is 15-90 minutes.
The device can be used several times a day and is suitable for all skin types. RECOMMENDED BY DOCTORS AND USED BY HEALTH CARE PROFESSIONALS - This LED therapy utilizes the most advanced technology used by today's leading physicians, physical therapists, and professional athlete trainers.
It has been tested in real life by various athletes and the elderly. Product name: Red light treatment pad/band. Single led quantity: 50 (40660nm light-emitting diodes, 10850nm light-emitting diodes). Package includes:(as your choosed).
1 red light therapy armband. 1 1.5M power cord.
2 red light therapy armband. 2 1.5M power cord. Single 1 pair auxiliary straps.
Only 1pair auxiliary straps(as picture).